Understand patents
in simple terms.
Lawyers use our software to generate summaries and key details about patents. Find the information you need in a fraction of the time.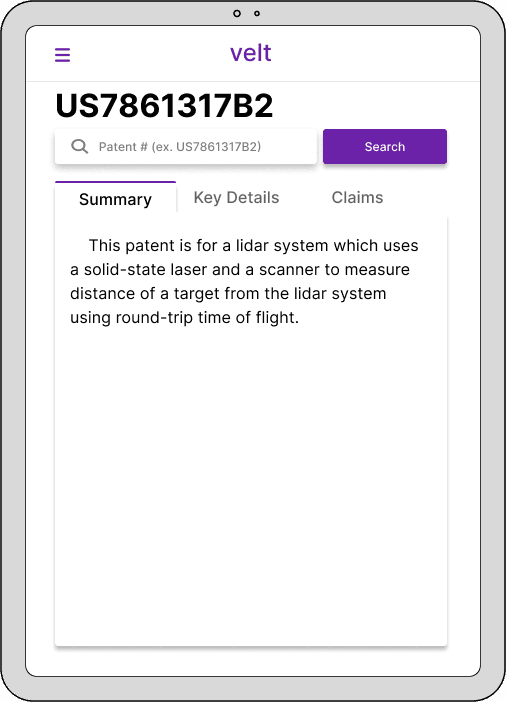 Save time on daily research
Streamline your workflow with our patent summarization tool. Spend less time on routine review and more time delivering top-quality legal services to your clients.
Details On-demand
Generate key patent details instantly.
Advanced Search
Search multiple patents in plain language.
Navigate Patents
Quickly process and search related patents.
Research Smarter
Speed up workflows and get answers fast.
Designed for law firms like yours
Here at VELT we're committed to providing our clients with the tools and insights they need to stay ahead in today's rapidly changing patent landscape.
Starter
Best option for personal use and for your next project.
Icon

Individual configuration

Icon

No setup, or hidden fees

IconTeam size:

1 lawyer
Frequently asked questions
Yes, we utilize GPT in a limited capacity for some of our translation features. To ensure accurate and reliable results, we limit the amount of processing we perform via GPT. We do not send any customer information to GPT or OpenAI.